We want to sell is a
High Speed Pey Bottle Blowing Machine
, its performance is enough to complete the customer wants it to complete almost all the tasks.We believe that this product can provide customers with an excellent experience, so that customers understand what kind of real good product.
Raw Material:

PET

Automation:

Automatic

Certification:

CE, SGS, ISO9001:2008, QS, UL, GMP

Mold Cavity:

4

Warranty:

1 Year

Cooling Water:

22L/Min

Dimension:

3200mm*1150mm*2200mm

Air System:

6.0m3/Min 3.0MPa Air Compressor

Specification:

3200mm*1150mm*2200mm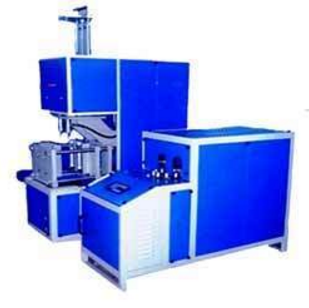 high speed pey bottle blowing machine
2. Advantages:
2.1 High speed with reasonable structure:
The unique linkage cam can finish mold-opening, mold-locking and bottom mold-elevating in one movement, the blowing period is greatly reduced to 2 seconds.
The linkage cam is intelligently driven by one servo motor, this obviously simplify the blowing machine structure, which make it convenient to maintain and no need for heavy lubrication work.
2.2 Less heating oven, small electricity consumption
The preforms distance in the heating oven is only 38.1mm, which means more preforms can be put into the oven compared with the traditional blowing machine. The heating efficiency is largely improved, and as a result, it saves more than 30% electricity consumption than the traditional blowing machine.
2.3 Stably running
The machine adopts modularized design concept, it has compact and reasonable structure, it reduces the failure rate from the basic design angle. FG4 does not need the low air compressor.
3 Detail specification of PET bottle blowing machine

Main Parameter


Capacity
Depend on bottle design
5500-7200PCS/H
Applicable Preform
Height
<330mm
Neck
20mm-25mm
Applicable Bottle
Neck
20-25mm
Volume
Max.2Liter
Height
Max.328mm
Diameter
Max.105mm
Electric consumption
Install power
51kw
Heating oven powder
46kw
Heating Oven operating power
26kw
Air consumption
Pressure
4m3/min 4.0MPa
Capacity
4m3/min 4.0MPa
Mold Chiller
Pressure
4-6Bar
Temperature
6-13ºC
Flow
45L/min
Oven Chiller
Pressure
4-6Bar
Temperature
6-13ºC
Flow
26L/min
Machine Dimension
L*W*H
3900*900*2500mm
Weight
3500kg
Capacity: 5000-5500BPH(based on 1L)
Max. Volume: 2 Litter
Total Size:
Blowing Main machine: 3.6*1.3*2.3m
Sorting machine:2*1.5*1.5m/Loader:3*1*1.5m